Edith wrote Against All Odds: A Miracle of Holocaust Survival for her children and grandchildren. She put the unthinkable into words, focusing on the power to persevere and underscoring that even when life looks bleak "you can overcome any challenge that life may present, and know that when there is life there is hope."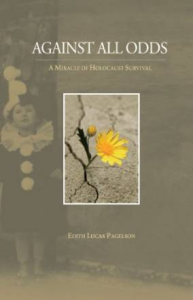 Through a series of what she refers to as "miracles," Edith and her mother survived the Holocaust, enduring the most horrific challenges imaginable. Transferred from death camp to concentration camp to labor camp, their determination to stay together and stay alive kept these two Holocaust survivors from succumbing to the degrading treatment and conditions they faced for more than three years. Strong-willed and high-spirited, they met every challenge put to them and found themselves benefiting from "miracle" after "miracle."
Edith has masterfully told her tale of tragedy and triumph. She has drawn the perfect balance between telling enough of her story to draw us in without telling such a devastating story that we turn away – no easy task when recounting the story of being displaced from her home by the Nazis for three years and five months. Her loss was great – the death of her father, the loss of her childhood, separation from family, friends, and home. But her gratitude was equally great – she was with her mother every step of the way for those three years and five months.
Edith and her mother drew strength from one another as they fought for their lives. At one point finding herself face to face with Dr. Josef Mengele, Edith realized the only way to save her mother's life was to convince him that her mother was strong, healthy, and a good worker. Mission accomplished, and the mother-daughter team remained together and returned to what was left of their homeland together.
Edith's life continued to be filled with a mix of tragedy and triumph after she and her mother traveled to the United States. She has "rebuilt [her] life surrounded by love" through two wonderful marriages, two children, and ten grandchildren. At 88 years of age Edith lives in Southern Maine close to her daughter and continues to share her story when invited to speak at schools, church groups, and community organizations. The proceeds of her book are donated to the Holocaust and Human Rights Center of Maine. While Edith wrote this book for her children and grandchildren, it is a beautiful gift for the rest of us as well.