Know someone who's healing from a cancer diagnosis? You might want to check out your local YMCA. LiveSTRONG and YMCAs have had a strong partnership since 2008. This partnership underscores important knowledge about healing from cancer: cancer patients need community support and healing cancer is a long-term process.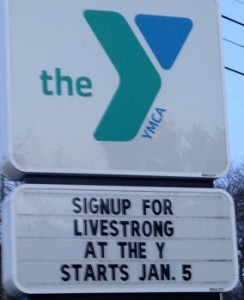 Riding past my local Y last week, I was glad to see this sign promoting the LiveSTRONG at the YMCA program. This program is "designed to help adult cancer survivors reclaim their total health."  Participants in the program meet twice a week "to regain their physical, emotional, and spiritual strength." That's why I love the idea of this program: there is an acknowledgment that cancer patients need to heal on a number of levels. Cancer affects every nook and cranny of a person's life and LiveSTRONG at the YMCA aims to address a variety of challenges cancer patients face.
This 12-week program, offered at no cost, also benefits every family member of the cancer patient as it includes a complimentary membership for the entire family.
Printed material sums up this program:
Participants work with Y staff trained in supportive cancer care to safely achieve their goals such as building muscle mass and strength; increasing flexibility and endurance; and improving confidence and self-esteem.  By focusing on the whole person and not the disease, LIVESTRONG at the YMCA is helping people move beyond cancer in spirit, mind, and body.
Restoring strength and physical stamina is important; equally important is the need to restore self-confidence, address relationship issues, and stresses and life changes associated with cancer diagnosis and treatment.  If you know someone who could benefit from this program, please connect with your local Y or LIVESTRONG.