2013 is winding down in a big way; right now is the perfect time to make sure you've got yourself set up for success in 2014. These five elements can make the difference between a good year and a great year.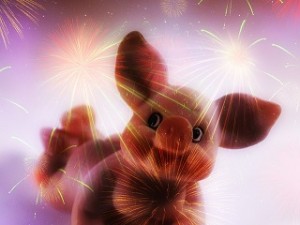 1.  Now would be the time. Oh, yes, there are plenty of reasons for you to hold off on your project – whatever project you're holding back on. Here are a few:
I need to do some more research.
The economy's sputtering along; let me wait until things pick up a bit more.
I'm not ready.
Replace those feeble excuses with reality:
I know enough to move forward; I'm the expert here.
I'm the person who needs to share this story.
I've got this. I. AM. READY.
Yup, you guessed it: if you want to complete something, you've got to begin. Now. Right now.
2.  Set those SMART goals.  You know where you want to go, what you want to do, and what you want to become. Write it down, make it real. Put pen to paper and map out your steps to success. Tactics become your friend as you document your progress. What's so smart about SMART goals? They're everything you need to fulfill your dreams: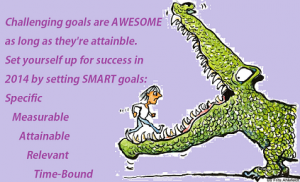 3.  Surround yourself with people who believe in you and your work.  Get pumped up by positive energy instead of having the life sucked out of you by negative nellies. Yes, we've all got those detractors in our lives. Give yourself permission and marching orders to stay away from them. Plunk yourself smack dab in the middle of people who can support you. Breathe in the goodness and get some work done! 
4.  Say it out loud – find an accountability partner.  Do not keep your plans buried in a secret journal, or in a box on the highest shelf of your closet. Naming those SMART goals and sharing them with others helps them become real. Need to start small? No problem. Tell one or two trusted people who can hold those wiggly feet of yours to the fire.
5.  Celebrate small victories along your path. Acknowledging small victories along the way to large goals can provide just the extra motivation you need to tackle those big goals. Schedule time in your week to track your progress, and do that happy dance of success.
Share your goals below or connect with me directly to let me know what you've got planned to keep you squealing with delight in 2014.