One phrase changed my life:
"It is impossible for cancer to develop in an alkaline environment"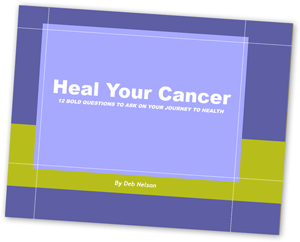 This seemingly simple phrase appeared in Brendan Brazier's book Thrive: The Vegan Nutrition Guide to Optimal Performance in Sports and Life. After reading that book, I started researching the relationship around nutrition, lifestyle, and cancer diagnoses.
The people I've met on this journey and the stories they've shared with me are amazing. So amazing, in fact, that they inspired me to write a book sharing these stories – stories of triumph as they changed their diet and/or lifestyle following a cancer diagnosis. There will also be a story or two about people who have changed their diet and lifestyle in an attempt to keep cancer at bay.
While I continue to work on that book, I hope you'll download my free eBook  Heal Your Cancer: 12 Bold Questions to Ask on Your Journey to Health.
Please contact me through the contact form or send me a email at deb[at]debnelsonconsulting.com if you'd like to share your story with me.
__________________________________________________________________________________________________________________________________________
This information on this site is written as a source of information only. Deb Nelson is not a doctor and has no medical training. The information contained on this site should by no means be considered a substitute for the advice of a qualified medical professional, who should always be consulted before beginning any health program. The reader is cautioned to carefully assess the risks associated with following any health program and is responsible for obtaining health care appropriate for his/her condition.