Yes, these dreams we dream do come true. They don't come true because we have a thought and throw it out to the universe. These dreams come true because we are moved to action to make sure they do come true.
The first time I thought of writing a book, I was just a kid. I had written a short story for a school assignment – a contest to write the scariest Halloween story. And then the impossible happened: my story won!!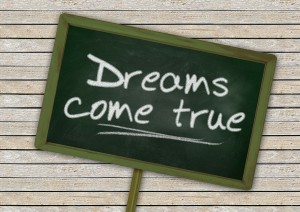 At that moment, my fifth-grade self decided that I would be a writer. It took a mere 40 years for me to act on that decision. Driving home a few years ago, I had an idea for a book. This book would share stories of people who changed their lifestyle following a cancer diagnosis. No, I hadn't had a cancer diagnosis myself that changed the course of my life. I read a book that included a phrase: "It is impossible for cancer to develop in an alkaline environment." I folded the page over, did some research, and learned a lot about the power we have when faced with a serious health situation.
This one phrase rekindled a sense of curiosity to find out more about cancer. Was there really more to treatment than surgery, chemo, and radiation? You betcha! Do we really have the ability to influence the ways our genes present? Oh. My. Goodness. Yes we do!
I've read more books on cancer than I would have thought possible, gone to conferences filled with inspiring speakers, and talked with cancer conquerors from all parts of the country. The generosity of these cancer survivors to share their stories is overwhelming. As I continue to gather information for my book sharing some of these stories, I decided to release an eBook to lend a hand to those who have been diagnosed with cancer. Download the free eBook, Heal Your Cancer: 12 Bold Questions to Ask on Your Journey to Health, here and share it with anyone you know who might benefit from it.
My fifth-grade dream is becoming a reality – thanks to my action and the support of friends, family, and a group of amazing cancer conquerors. I'd love to hear how you've made your dreams come true. Contact me directly, or leave your comment below.